This guide will show you how to climb over walls and ledges in Monster Hunter Rise (MHR). See how to go over small ledges, ivy walls, and how to perform a Wall Run after using a Wiredash.
In Monster Hunter Rise, there are three different methods that can be used to climb walls, depending on factors such as the wall's height, and whether or not it has ivy or vines growing on it. While some walls can be climbed automatically, taller walls will require you to use a Wirebug to perform a Wiredash.

Walls that are roughly the same height as your character (or slightly taller) can be climbed relatively pain free by simply holding forward in the direction of the wall. You can also hold R to run at the wall, climb it, then continue running after going over it!

Ivy walls are very useful for getting up to higher areas. They can also be climbed automatically, as walking in the direction of the wall will lead your character to grab onto it. After grabbing it, hold forward to climb upward, while left and right can be used to adjust your positioning. Additionally, you can hold R to climb much faster than normal, although it will use stamina.
Another point to keep in mind is that you can scale ivy walls while riding your palamute as well, and as mentioned above, you can hold R while doing so to climb even faster. Holding R whle riding your palamute will allow you to scale ivy walls with extreme speed!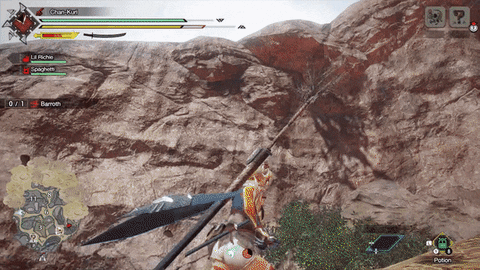 For taller walls that have no vines on them, you will need to make use of a Wiredash in order to climb them. To do so, simply press ZL, which will bring up an aiming reticle, then press ZR to fire at the spot you are aiming at (pressing X instead will pull you straight up, while pressing A will pull you horizontally forward). After latching on to the wall, you should hold R and forward to do a wall run, which will allow you to make it to the top.
Wall runs can only continue until your Stamina is exhausted, so it is important that you aim your reticle as close to the top ledge of the wall as possible, as it will be easier to do a wall run to reach the top. If your stamina runs out before you reach the edge, you will jump off, at which point you can initiate a second wiredash and finish the climb if you are quick enough.
Enlarge
Simply use the left stick to move on a wall. Holding forward will allow you to climb upward.
Holding R + the Left Stick after performing a Wiredash will allow you to wall run. This uses stamina, and can only be done for a short amount of time.
While climbing on a wall (or after a Wiredash), you can press B + back on the Left Stick in order to perform a long jump away from the wall.
After doing a wall jump, you can press X to come down and strike with a landing attack.
While climbing, press B to drop down.