This guide will show you how to climb over walls and ledges in Monster Hunter Rise (MHR). See how to go over small ledges, ivy walls, how to perform a Wall Run after using a Wiredash, skills, and items to support Wall Running.
In Monster Hunter: Rise, there are several ways in which walls or steep terrain can be climbed. This depends on the wall's height and whether it has ivy or not.
Climbing walls via Wall Running will naturally deplete stamina. It is recommended that you perform a Wiredash with Wirebugs to efficiently scale the wall.
In a hunt, walls can be climbed relatively pain free by simply sprinting towards the wall. As long as your buttons are held down, you will start climbing them.
Short walls or steep terrain, such as the one shown above, can easily be climbed over without costing too much stamina. Running out of stamina while Wall Running will cause you to drop from the wall.
Walls which have Ivy (or any similar climbing objects such as vines and ropes) are useful for getting up to higher areas as they allow you to hang on them during the climb. Walking in the direction of the ivy wall will lead your character to grab onto it.
After grabbing it, hold forward to climb upward, while left and right can be used to adjust your positioning. Additionally, you can hold the sprint button to climb much faster than normal, although it will use stamina.
Keep in mind that ivy walls can be scaled with palamutes as well, and as mentioned above, you can hold down the sprint button while doing so to climb even faster.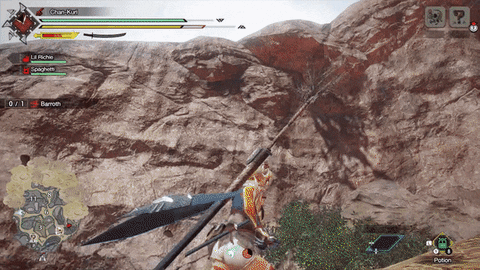 Controls
PC

---

or

Hold Middle Mouse (Melee)
Hold Right Click (Ranged)
Aim Wirebug

---

or

MB4 (Melee)
Left Click (Ranged)
Use Wiredash
PS

---

Hold L2
Aim Wirebug

---

R2
Use Wiredash
Switch

---

Hold ZL
Aim Wirebug

---

ZR
Use Wiredash
Xbox

---

Hold LT
Aim Wirebug

---

RT
Use Wiredash
For taller walls that have no vines on them, you will need to make use of a Wiredash in order to climb them.
To do so, aim your Wirebug and fire it at the spot you are aiming at. After latching on to the wall, hold down the sprint button to initiate Wall Runnnig, which will allow you to reach the top.
Wall Running can only continue until your Stamina is exhausted, so it is important that you aim your reticle as close to the top ledge of the wall as possible, as it will be easier to do a wall run to reach the top.
If your stamina runs out before you reach the edge, you will jump off, at which point you can initiate a second wiredash and finish the climb if you are quick enough.
Controls
Action
PC

---

Hold W (Forward)

PS

---

Hold Left Stick (Forward)
Wall Traversal
Switch

---

Hold Left Stick (Forward)
Xbox

---

Hold Left Stick (Forward)
PC

---

+

Shift + W
PS

---

+

R1 + Left Stick
Wall Run
Switch

---

+

R + Left Stick
Xbox

---

+

RB + Left Stick
PC

---

+

Space + S
PS

---

+

X + Left Stick
(Back)
Wall Jump
Switch

---

+

B + Left Stick
(Back)
Xbox

---

+

A + Left Stick
(Back)
PC

---

Left Click
PS

---

Triangle
Jumping Attack
Switch

---

X

Xbox

---

Y
PC

---

Space
PS

---

X
Drop Down
Switch

---

B
Xbox

---

A
| Skills | Explanation |
| --- | --- |
| Wall Running | Reduces stamina consumption when wall running. At Lv. 3, increases attack power when you initiate a wall run. |
| Wall-Runner (Boost) | Wirebug Gauge recovers faster while wall running. |
| Marathon Runner | Slows down stamina depletion for actions which continuously drain stamina (such as dashing). This stacks with Wall Running. |
Listed above are skills that are often used for managing stamina while Wall Running (this includes climbing ivy, vines, and ropes). These can be used to your advantage during a hunt!
There are skills that provide temporary infinite stamina (such as Furious and Heaven-Sent), which halt stamina use during climbs. However, they are not usually used for scaling terrain and are better suited for combat.
Also, look out for stamina use reduction skills like Latent Power and hunting horn Melodies that have situational use in helping with wall scaling.
| Items | Effect |
| --- | --- |
| Ancient Potion | Fully restores your health and stamina. |
| Dash Juice | Gives back a small amount of stamina and reduces stamina loss for a short period of time. |
| Energy Drink | Boosts stamina and prevents sleep. |
| Ration | Restores a small amount of stamina. |
| EZ Ration | Restores a small amount of stamina. (Supply Item) |
| Well-Done Steak | Food that fully restores stamina. |
| Rare Steak | Consume to fill a portion of the red portion of the stamina bar. |
Look out for items that can improve your stamina usage and maximum capacity. This can help if you need the extra boost in climbing lots of steep terrain!