This is a guide to the Gunlance, a weapon in Monster Hunter Rise (MH Rise). Read on to learn about new Gunlance controls and combos, how to use Gunlance shelling, Gunlance's Blast Dash as well as details on Gunlance Switch Skills.
Button
Action

Lateral Thrust

Shelling
(Hold)

Charged Shelling

+

Rising Slash

After Rising Slash,

Overhead Smash

After Overhead Smash,

Wide Sweep
Guard

+

Guard Thrust

+

Reload
After an attack,

+

Quick Reload

Backstep

After Overhead Smash,

---

After Hail Cutter,

Full Burst

After Wide Sweep,

or

---

After 2 Shelling,

---

After Full Burst,

---

After Guard Edge,

---

+

then

+

Wyrmstake Cannon

+

+

Wyvern's Fire

+

Hail Cutter

+

Guard Edge
| | |
| --- | --- |
| Input | + |
Hail Cutter is a Silkbind Attack that launches the hunter airborne while reloading the Gunlance. The move finishes with a downward slam where you may opt to use 'full burst' or Wyvern Fire with a shortened charge time!
| | |
| --- | --- |
| Input | + |
Guard Edge is a Silkbind Attack that acts like a counter-guard but restores sharpness. Considering how Gunlance shelling eats up sharpness at a rapid rate, this is a great addition to Gunlance's arsenal!
Ground Splitter is a Switch Skill switchable with Hail Cutter. The hunter will drag the Gunlance on the ground while moving foward and strike with an upward slash. It also temporarily boosts the damage for shells, Wyrmstake Shots, and Wyvern's Fire.
Switch Skills are unlocked as you progress in the game. The very first one is obtained after finishing the ★3 Village Urgent Quest, Feathered Frenzy.
The best Switch Skills we recommend for each slot are marked in red.
| Controls | Original Skill | ⇔ | Switch Skill |
| --- | --- | --- | --- |
| A | Charged Shelling | ⇔ | Blast Dash |
| zL + X | Hail Cutter | ⇔ | Ground Splitter |
| zR + A | Quick Reload | ⇔ | Guard Reload |
Switch Skills Guide: How to Unlock Switch Skills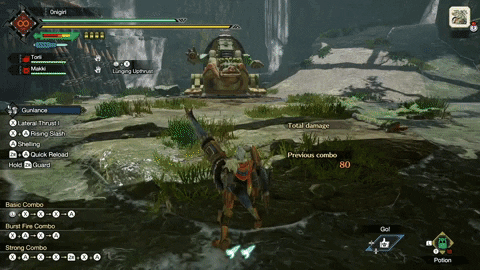 Switched With
Controls
Charged Shelling

Hold

, and release when charged


Can be performed mid-air using

+

Description
Uses recoil to travel far. Aims the Gunlance backwards then launches forward to close in the target. It is possible to use Blast Dash again while hurtling!
Blast Dash propels your hunter using the force of the Gunlance artillery. It does not have any damaging potential but is useful for closing out the distance between you and the monster. Blast Dash can be used up to three (3) times.
Switched With
Controls
Hail Cutter

+

Description
Scrapes the ground while slashing upwards. Increases shell, Wyrmstake Shot, and Wyvern Fire damage temporarily.

---

Wirebug Gauge Recovery Speed: Slow
Wirebug Cost: 1
Ground Splitter drags your Gunlance on the ground, heating the tip while increasing the damage of shelling and Wyvern's Fire for a short time. Change into this Switch Skill as soon as you unlock it!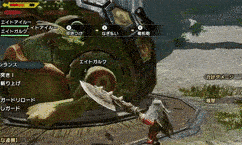 Switched With
Controls
Quick Reload

+

Description
Has a Guard at the start of the reload. Reloads both the shells and the Wyrmstake Cannon but only reloads less shells than normal Reload.
In Guard Reload, your artillery rounds are reduced to 3 but reloading is now guarded. This will also reload your Wyrmstake Cannon.
| | |
| --- | --- |
| Input | (Hold) |
You charge your gunlance and unload a single burst of fire onto a monster. Unlike the Unload Burst, charged shelling only consumes 1 ammo at the cost of dealing less damage.
Input

After 2 Shelling,

---

After a Shelling, ↓ +

---

After a Full Burst,

---

After a Guard Edge,

---

After a Wide Sweep,

---

+

→

+
The Wyrmstake Cannon uses a large metallic stake or harpoon-like ammo which deals a massive amount of damage when fired. Accompanied by this cannon are two attacks which in turn makes the combo a devastating blow to any enemy monster. There are multiple ways to achieve this combo so practice what feels comfortable the most to you.
The Wyrmstake Cannon needs to be reloaded every time it is used using guard reload and normal reload. It cannot be reloaded using Quick Reload.
| | |
| --- | --- |
| Input | + |
Reloading your Wrymstake Cannon is different from reloading the ammo in your Gunlance. Always keep in mind that you cannot successfully perform a Wyrmstake Cannon combo if your gunlance is empty. Reload them using Normal Reload or Guard Reload, Quick Reload will not reload the Wyrmstake Cannon.
While the Wyvern Fire isn't a new move to the Gunlance, it was observed that when using Wyvern Fire, the hunter is capable of guarding against attacks! A new and handy feature!
| | |
| --- | --- |
| Input | After Using Overhead Smash, |
The Burst Fire is a returning move in Monster Hunter Rise! Burst Fire is a move that quickly fires all the current shell you have and is a great move to use for Gunlances with normal ammo types due to its massive amount of ammunition.
| | |
| --- | --- |
| Input | Hold |
The Charged Shelling is an old gunlance feature that allows you to increase a shell's damage by charging your shots. It's extremely effective for long-type gunlance ammo due to its inherently high damage output.
This combo utilizes all of the high damage moves of the Gunlance but leaves you open to counterattacks. Only use this combo when the monster is down.
With this combo, you can start prepping the Wyrmstake Cannon when the monster roars as that is your opening. Quickly transferring into guard edge can help block against the attack after the roar which then leaves the monster open for you to blast them with your readied Wyrmstake Cannon.
This combo allows you to enter into a Guard Edge then transfer into a full burst. You can also integrate movements for re-positioning yourself while slamming down attacks.
A full combo that bombards the target with infinite full bursts using Ammo Up and Reload Speed and goes well with Normal Shelling Gunlances.
Input

Hold

→ ↓ +
This combo enables your Wyrmstake Cannon to execute faster if shot from Charged Shelling. Combine this with the Switch Skill Guard Reload and you will have an infinite combo.
Use the Wyvern Fire
---
Shelling bypasses Monster Armor
---
Use Guard Edge to recover sharpness
---
Use Wyrmstake Cannon
---
Use traps to lock a monster in place for your high artillery combos
---
Know the different shelling types' individual pros and cons
---
Master the three types of reload
---
Wyvern Fire can flinch allies
Wyvern Fire is the most powerful attack the Gunlance can deliver. Make sure it hits the monster so it would not be wasted!
Shelling bypasses monster armor so you may bombard any part of the body regardless of the toughness!
Guard Edge is a great addition to Gunlance's arsenal. This is very useful considering that shelling rapidly decreases Gunlance sharpness! You may also use armor skills like Handicraft or Speed Sharpening to mitigate the rapid sharpness decrease.
The Wyrmstake Cannon is Gunlance's main DPS improving skill. It almost doubles your damage so always make sure that the monster has a Wyrmstake cannon in it and keep firing on it with shells!
The Wyvern's Fire used to be Gunlance's strongest move but is replaced by the less flashy Wyrmstake Cannon. The Wyvern's Fire is a burst attack and using it on a monster that has a Wyrmstake Cannon will make the Cannon proc extra explosions from the Wyvern's Fire. The deadliest artillery combo.
Traps are a valuable item in Monster Hunter games. It allows you to ensnare a monster and potentially capture it when their HP is low. With Gunlance's bursty nature, a single opening can prove fatal to monsters, and using traps is a surefire way to get that opening.
The Gunlance's playstyle, while fixed into the DPS tank role, will vary greatly depending on their weapon's shelling type.
| Ammo | Best Movesets and Playstyles |
| --- | --- |
| Normal | Most Ammo capacity, gets high damage from Burst Fire due to ammo quantity. |
| Spread | Least ammo capacity, benefits greatly from a poke, fire, quick reload style of play. |
| Long | Medium ammo capacity, has the highest shelling damage and can benefit the most from Wyrmstake Cannon and Shelling only playstlyle. |
Reload
Slow Reload Speed
Bullets and Wyrmstake are both reloaded
Quick Reload
Fast Reload Speed
Only the bullets are reloaded
Guard Reload


Switch Skill

Can Guard while reloading
Fast Reload Speed that includes the Wyrmstake but reloads only 3 bullets
It is important to know when to use these types of reloading. Wyrmstake Cannon is very powerful but it is cumbersome to reload. A great Gunlance player knows if the situation calls for Reload or Quick Reload.
The Switch Skill Guard Reload is the middle ground but you don't unlock it until the Hub ★6 so it's a long way to go. By that time, you should have mastered both Reload and Quick Reload.
Switch Skills Guide: How to Unlock Switch Skills
Be careful on using the Wyvern Fire when there are allies nearby. The explosion can flinch them and will disrupt their combo. Maintain proper decorum and use Wyvern Fire only when there isn't an ally nearby or let them know if you will use it so they can back off.
| | |
| --- | --- |
| Rank | |
The Gunlance is a weapon that can easily deal damage. However, since there's a big windup time for its attacks, it needs knowledge of a monster's moves so it doesn't get interrupted. The Gunlance is also slow, making it difficult to move around the battlefield.
Shelling neglects monster armor
---
Physical attacks are strong too
---
Long reach and can aim high places
---
One of the best with guarding
Shelling attacks ignore monster armor so Gunlance players revolve their playstyle around it. This is mostly where the Gunlance shows its full potential!
Though shelling is where the power lies, Gunlance's physical attacks are not too shabby either! Depending on the situation, you can build your Gunlance for poking only!
Like the Lance, the Gunlance also has a long reach and can aim high. This enables the hunter to reach the high heads of Anjanath or hit flying enemies like Rathalos!
The Gunlance is also top tier when it comes to guarding! It is possible to bombard enemies with shelling while guarding to keep this in mind!
Shelling consumes sharpness
---
Very poor mobility
---
Wyvern's Fire and Shelling Ammo needs proper management
Unfortunately, shelling rapidly consumes sharpness. Remember to use Guard Edge or sharpen during the fight! We suggest putting in the armor skill Master's Touch to slow down sharpness degradation. If not, just opt with Speed Sharpening so you can sharpen in less time.
When unsheathed, the Gunlance reduces the hunter to a crawl. Sheath your weapon or build your Gunlance for Evade Extend to reposition effectively! Blast Dash can be used to mitigate this but you will not have access to Charged Shelling anymore.
In addition to managing sharpness, Gunlance users must also manage the Gunlance's Wyvern's Fire and Shelling ammo. This requires optimal presence of mind whenever you play!
Wyvern Fire can be shot while guarding
---
Wyvern Fire cooldown is shown (below the Wyrmstake Cannon icon)
---
Burst Fire now possible from the start of a combo
---
Spread Shelling has the stun values
The cooldown for the Wyvern Fire is now displayed with an orange meter below the Wyrmstake Cannon icon. You can now see (at a glance) if Wyvern Fire is ready!