This is a farming guide for Firelantern, an item in Monster Hunter Rise (MH Rise). Check here for all Firelantern locations and drop sources, as well as Firelantern uses in equipment and decoration crafting.
Name
Firelantern
Description
A vermilion berry. Looks like a fireball from afar.
Rarity
4
Type
Account Items
Sell Price
16
Firelanterns are gathered from Shimmering Red Berries, same with Wisplanterns.
Location Summary
Obtained from Shimmering Red Berries in the Shrine Ruins.
This route begins at the sub-camp, which must first be unlocked by finding the sub-camp location and completing a Request from Kagero the Merchant after returning to Kamura Village.
Fast travel to the sub-camp, then collect the Firelanterns nearest while aiming for the right edge of Area 11. From there, fast-travel back to the sub-camp, then head to Area 13. Head southeast and collect the Firelanterns until you reach #7, then this time, fast travel back to the main camp, and from Area 1, head around back to Area 7 to collect Firelanterns #8-10.
This route leads to all Firelanterns starting at the Main Camp. Start with those closest to the Main Camp, then use a Great Wirebug to reach #4 found on top of the cliff.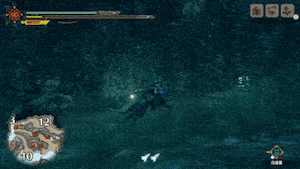 To reach Firelantern #6, climb up the vines between the walls of the cliff, and continue along the road until you reach the Firelantern. This is also the location of the sub-camp, so you can interact with it to activate the Request which will open the sub-camp.
Effect Summary
Account item that gives points.
You will need to collect 8 Firelanters to complete Roly-poly Lanterns Quest. This account item also adds 16 points each to your quest.
Opinions about an article or post go here.
We at Game8 thank you for your support.
In order for us to make the best articles possible, share your corrections, opinions, and thoughts about "Firelantern Location: How to Get and Uses | Monster Hunter Rise" with us!
When reporting a problem, please be as specific as possible in providing details such as what conditions the problem occurred under and what kind of effects it had.