The Abyss Herald: Wicked Torrents is a new monster in the 1.4 Update in Genshin Impact. For information on the Abyss Herald release date, location, and strategies on how to fight, check out this guide.
| | |
| --- | --- |
| Release Date | April 12th 2021 |
Chapter 1: Act 4 Story Walkthrough
Enlarge
Locations
Found in the Call of the Abyss Domain
---
Found in Wolvendom at the Boreas Area
---
Found in Spiral Abyss Floor 11, Chamber 3
The Abyss Herald: Wicked Torrents will be encountered during the Archon Quest, We Will Be Reunited. You will get to fight the Abyss Herald a total of three times during the Archon Quest; twice in the domain, and once in the Boreas Area in Wolvendom.
As much as possible, try to avoid getting hit by the Abyss Herald: Wicked Torrents, as some of his attacks increase the CD of your character's skill if they are currently on cooldown.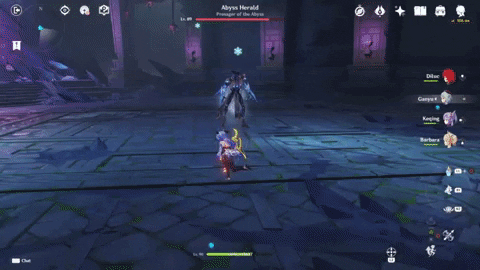 You can Freeze the Abyss Herald: Wicked Torrents to render them immobile for a few seconds. The Abyss Herald utilizes the Hydro Element, however in order to freeze the Abyss Herald, you will need a Hydro character for the Freeze reaction to work when applying Cryo.
The Abyss Herald: Wicked Torrents will be able generate a shield when you fight him for the second time onwards. The shield activates when its HP gets low. Aside from Cryo characters, you can also bring an Electro Character to break the shield much faster.
We recommend bringing at least one Cryo character and one Hydro character before taking on the Abyss Herald: Wicked Torrents, as it is susceptible to Freeze. Pyro and Electro characters are also viable in dealing damage and breaking shields respectively.
This is the moveset of the Abyss Herald, which makes use of its Hydro Sword attacks to deal high DMG.
Attack Patterns
How to Dodge

---

Spin Attack
The Abyss Herald launches himself forward with a vertical spin move. As soon as the Abyss Herald extends both swords, dodge to either side.

---

3 Hit Combo
The Abyss Herald unleashes a 3-hit melee combo. This can easily be dodged by moving back or to the side.

---

Quick Slash
The Abyss Herald launches a quick ranged slash. This can be dodged quickly.

---

Slash Shockwave
Very similar to the normal quick slash move, however this time each slash shoots out a hydro shockwave that can knock you down. Dodge to either side of the Abyss Herald's swings to avoid the shockwave.

---

Cross Slash Shockwave
The Abyss Herald crosses his swords and sends out a large cross shaped shockwave. When the Abyss Herald raises both swords, move far to one side.

---

Sword Flurry AoE
The Abyss Herald swings wildly finishing with a large AoE attack. Be careful not to get caught in the flurry of swings, ats it will knock you down and deal high DMG.
Opinions about an article or post go here.
We at Game8 thank you for your support.
In order for us to make the best articles possible, share your corrections, opinions, and thoughts about "Abyss Herald Boss Guide" with us!
When reporting a problem, please be as specific as possible in providing details such as what conditions the problem occurred under and what kind of effects it had.