Windtrace is an event in Genshin Impact Version 1.5. Learn more about the mechanics of the event, the stages, and the rewards that you can receive!
Enlarge

Event Period

2021/05/14 10:00 – 2021/05/24 03:59


(Server time)
How to Unlock
Reach Adventure Rank 20 or above

---

Talk to Gygax in Mondstadt
Event Rewards
Windtrace is another event that will surely provide a new challenge for Travelers. Although you can play Windtrace in Co-Op mode with friends, note that you won't get Windtrace Coins from custom Co-Op parties. You can only get these event tokens from random matches!
You will only be able to play Windtrace in the areas with all Statues of the Seven unlocked. If there are unlocked Statues of the Seven in a Windtrace area, you won't be able to play there! Instead, only area maps with completed Statues of the Seven are available.
Playing with a custom Co-Op party will not give you Windtrace Coins! You will only be able to get Windtrace coins by playing in randomized games with the matching function.
Windtrace Coins can be obtained by playing the event, and are used to exchange items in the Event Shop! The maximum amount of Windtrace Coins you can carry on Day 1 is 1,200. The limit will be increased by 600 every day until Day 7, when you reach the final maximum of 4800.
| Day | Windtrace Coin Limit |
| --- | --- |
| Day 1 | 1200 |
| Day 2 | 1800 |
| Day 3 | 2400 |
| Day 4 | 3000 |
| Day 5 | 3600 |
| Day 6 | 4200 |
| Day 7+ | 4800 |
Similar to previous events, it seems that Windtrace will have additional challenges for players to complete. Completing these Windtrace challanges will reward you with additional Mora!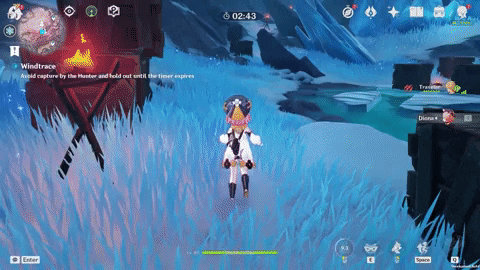 Windtrace is a Hide and Seek event where players are divided into Hunters and Rebels. The Hunters' job is to seek out the Rebels in hiding, while the Rebels have to sneakily avoid getting caught!
Use the event matching function to find randomized games and earn Windtrace coins, which are currency used to buy Event Shop items.
Enlarge
The job of the Hunter is to find Rebels hiding throughout the stage. They can make use of their Elemental Vision to look for tracks of Rebels and capture them.
Enlarge
On the other hand, Rebels are tasked to hide from the Hunters within a designated time limit. They have the option to use multiple types of disguises to blend in with the environment and avoid capture!
During the event, some of your abilities will be replaced by Secret Arts depending on which Windtrace team you're on:
| Secret Art | Information |
| --- | --- |
| Mysterious Hunch | This Secret Art replaces your Normal Attack during the event. |
| Capture! | This Secret Art replaces your Elemental Skill. |
| Insight | This Secret Art replaces your Elemental Burst. |
The Windtrace Event has 5 different stages for players to hide and seek. Each one provides a new challenge, helping you find and learn new ways to hide from other players!
Event Rewards
---
+ Namecard: ''Celebration: Peekaboo!''
Overall, the Windtrace event can give players Primogems, Mora, Hero's Wit, and Mystic Enhancement Ores. Play through the event and exchange event tokens for these valuable items!
Windtrace Coin
After playing matches, players will receive Windtrace Coins. Similar to previous event tokens, these can be exchanged for the rewards mentioned above in an Event Shop.
Windtrace Event Namecard
In addition to Primogems and other valuable items, players can also get the Windtrace Namecard: ''Celebration: Peekaboo!'' Those tiny cats look adorable!