Here is a guide on how to stack items in the game Resident Evil Village (Resident Evil 8). To learn more about the Stack function, organizing your Inventory, discarding items, and how many items stack up, read on!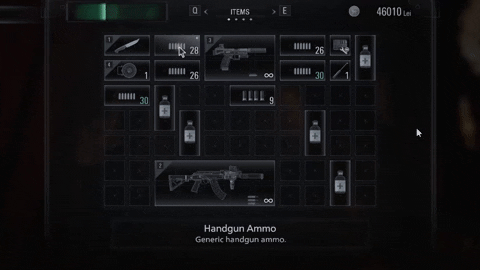 Most items stack automatically upon entering your Inventory. However, if you sell some of it from each stack, you'll notice that they do not stack automatically like before. Using the designated key binding to the Stack Function, all your items will stack according to the stack limit in the game. You can, of course, stack these manually by clicking on the item and dragging it over to the cluster you wish to stack.
Here is a guide to all the stack amounts that your Inventory can carry.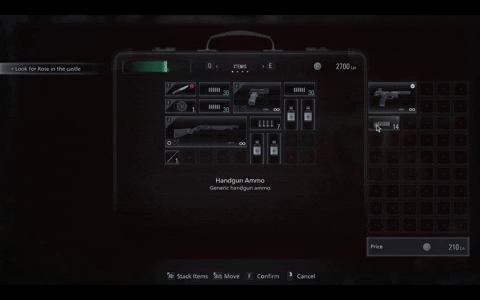 Over the course of the game, you will encounter many items. Items take up a number of blocks in your Inventory, ranging from 1 block to as much as 12 blocks. In time, you will find that your Inventory will need some organizing if you want to make room for more Items.
After a few chapters of the game, the Duke will sell you an Extra Baggage. This will expand your Inventory Space and allow you to carry more items such as Ammo, Lockpicks, Ingredients, and even Weapons.
Whenever you open your Inventory, you can free up space by discarding items by clicking on an item and dragging it to the set of blocks on the right. You can discard items such as Ammo and First Aid Med, but not Weapons or Lockpicks. Items you discard in this manner will be removed from your Inventory permanently.
When you buy Items from The Duke's Emporium, some of them may not always fit instantly in your inventory. This will pop up your Inventory and ask you to discard some items. Items you discard in this manner, will be bought by the Duke.
You will be awarded Completion Points (CP) completing a single playthrough without ever organizing your Inventory. You can use these Points to buy weapons and items like Infinite Ammo from the Extra Contents Shop.
Challenge
Requirements
★Slob
Reward: 33000 CP

---

Requirement:
Finish the story without moving items or using Stack Items in the inventory.