This is a guide to beating the Yagak in Bonds in the game Outriders. This article provides information on Yagak, as well as tested strategies for beating them.

A towering creature that appears to lead the Ferals. The Ferals do not seem to be entirely mindless beasts and their Warlord stands the most cunning among them, evident by the trap he laid for you and your crew.
You want to maintain distance because his sword is capable of killing you in one hit given the right circumstances. Move around the monastery as often as possible, as he can teleport next to you and charge you with his sword repeatedly. Evade while he is still in mid-air to avoid his sword attack.
Use Status Effect mods that inflict or enhance Burn, Toxic, or Vulnerable because this will be lengthy fight, especially on higher world tiers.
If you have gear with these Shards, we recommend to max them out before facing Yagak.
| | |
| --- | --- |
| Bonus Firepower | Increases weapon damage |
| Status Power | Increases damage of Burn, Toxic, and Bleed. Increase duration of Ash, Weakness, Vulnerable |
| Weapon Life Leech | Percentage of Health regained by dealing weapon damage |
| Skill Life Leech | Percentage of Health regained by dealing skill damage |
| Max Health | Additional Health points |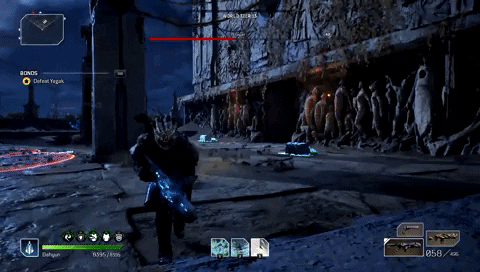 Yagak has two methods for closing distance, Displacement and Jump Attacks. Whenever he charges Displacement, odds are he'll try to teleport beside you or behind you to trap you in his zone. When you see him jump or teleport, roll away from your current location.

Yagak's Lightning Strikes targets 6 areas in close proximity to one another. These AoE zones (red circles) are locked to your current position. Once you've counted that all 6 have been activated you can continue shooting at Yagak.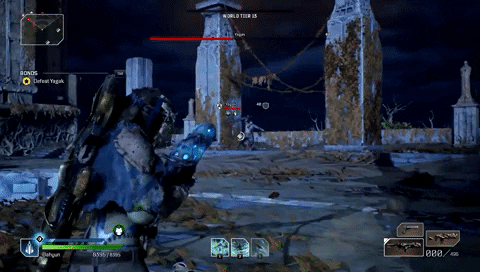 Despite being quick, Yagak can stay still when he plants his sword on the ground to either summon backups or cast abilities. This is a perfect opportunity to inflict damage on him as much as you can.
Enlarge
Once you see him put up a shield like the one above, don't even bother shooting at it. Instead, put some distance and check your surroundings for incoming Berserkers.
Yagak summons around 3-4 Berserkers at a time. Deal with them while avoiding Yagak's Jump Attacks and Lightning Strikes.