This is a guide to beating the Scarskin in Asylum in the game Outriders. This article provides information on Scarskin, as well as tested strategies for beating them.

Scarskin is the Brood Mother that resides in the Forest. Her children will come to her aid in times of danger.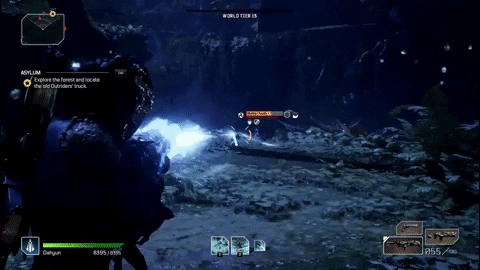 This is Scarskin's call for help, and a double-edged blade. If you have the right mods, like Even Odds, this could mean a big boost for your Health.
However, this could also be your disadvantage if you do not have crowd-control Skills equipped.

This Skill is used by both Alpha Perforos and Brood Mothers. It raises their Armor and defenses. Switch to a Status Effect-modded weapon with high Armor Pierce or Status Power to counteract Absorbing Skin.
Please refer to our previous guide on Defeating the Brood Mother in Mentor for additional tips as they both have the same move set.
The battlefield is narrow compared to the last time you faced a Brood Mother. It will be harder to evade since you don't have much room. We recommend equipping these Mods and making sure your Weapon Life Leech and Skill Life Leech Stats are at the best you can craft.
These mods were selected to aid your Healing Mechanic in case you get swarmed by Perforos.