This is a guide to Expeditions, the post-game campaign in the game Outriders. To learn more about Expeditions, Raids, Challenge Tiers and how to unlock the Eye of the Storm, read on.

Your time on Enoch is far from over, Outrider. The real test of your full-potential and tactical prowess has just begun. Welcome to Expeditions
Expeditions is the post-campaign mode intended for battle-hardened Outriders. Time-bound all-or-nothing survival Raids, that is what Expeditions is all about. Ready to put your mettle to the test?
Enlarge
Raids will be available only when there is a signal detected from your Outrider Camp. These signals change frequency over time. Some signals stay detectable longer than others. Some seldom get detected. You will have to complete all Raids before you can enter the Eye of the Storm
Enlarge
Similar to World Tiers, the higher you set your Challenge Tier, the more fruitful your bounty will be.
| | |
| --- | --- |
| Challenge Tiers | Allow you to set the difficulty of each Raid before you set out on Enoch. |
But be warned, Outrider. Higher tiers also mean more powerful enemies, make sure you gear up before you set out on your Raid.
Enlarge
Finishing earlier Raids on higher Challenge Tiers not only unlock other Tiers, but they are also the only way to unlock higher level Raids. Some Raids require a minimum unlocked Challenge Tier and Drop Pod Resources before you can access them.
Enlarge
After every Raid, you will be presented a breakdown of your performance. With this, you can gauge whether or not you are ready to advance with your campaign.

After completing the main story, you'll find yourself in a new camp, the Outrider's Camp. From here you can detect signals from the Resource Drop Pods that fell from the Flores.
Enlarge
Bailey now offers Titanium at a reasonable price to help you craft your weapons and gear as you'll need them if you plan to survive the uncharted parts of Enoch.
Enlarge
| | |
| --- | --- |
| Drop Pod Resources | Resources gathered from Drop Pods. They are required to embark on the hardest Expeditions. Tiago can exchange them for Items and other Resources |
Tiago is now a bonafide member of your group after helping your crew escape the Caravel. He also sells Legendary Weapons and Gear, the only known vendor on Enoch to sell them.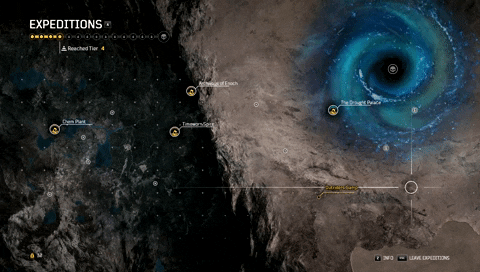 The Eye of the Storm is the very heart of the Anomaly, the place where it all began. This is the most treacherous part of Enoch, and it may even hold the answers to everything about what happened when the First Storm began.

To gain access to the Eye of the Storm you will need to accomplish two things, Outrider.
The Eye of the Storm Requirements
1
Unlock Challenge Tier 15
2
40,000 DPR